Lower your menu costs with Yumm
Manage your menu in an easy and inexpensive way, with support for COVID contact tracing and take-away platforms.
Get Started For Free
Simple, safe and inexpensive
Manage your menu with Yumm
Are you looking for an easy and inexpensive way to create and maintain your menu? Then look no further, with Yumm you can change your menu at any time and on any device.
Your menu is available to your customers digitally, printed and on your own website, reducing your costs and giving you an easy and accessible way to keep your menu up-to-date.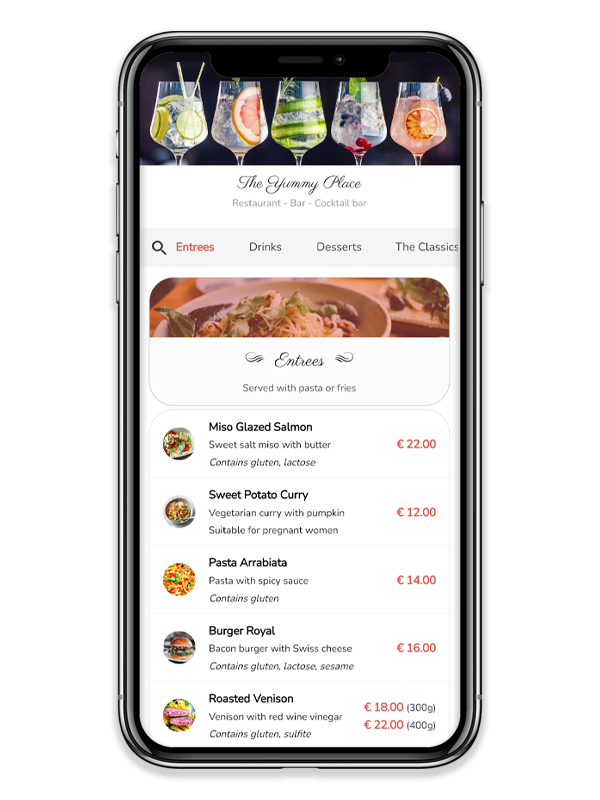 Lower your fixed costs
What does Yumm offer?
Available digitally and printed
Your customers can access the menu on their own smartphone, without any app install, and if needed can also be printed.
Integrate into your website
Yumm can be integrated into your own website, letting your customers view the menu inside your own website, without going to another link.
COVID contact tracing
Allow your customers to fill in the attendance form during their visit, so that you can temporarily store and retrieve this information digitally.
Delivery platform integration
Connect to your Uber Eats, Deliveroo or Takeaway account and let Yumm synchronize your menu and data across all your platforms.
Change your menu at any time
Make changes to your menu at any time, let your customers know when a menu item is not available or the price has changed.
Design your menu
Personalize your menu, change the style, color, building blocks and more to define your own menu and make it stand out.
Filter on allergens and preferences
Add allergens, types and preferences to menu items, so customers who want a specific dish, drink or have a food allergy, can filter on it.
Multilingual support
Menu items and details support any language you want to add, giving your customers a way to switch language while viewing the menu.
Uber Eats, Deliveroo and Takeaway
Integration with delivery platforms
Yumm allows you to connect with delivery platforms such as Uber Eats, Deliveroo and Takeaway. This allows you to synchronize your menu across all your platforms and has many benefits.
Create your menu in Yumm and upload it to your delivery platforms, or import your existing menu in Yumm, so you can keep your menu synchronized on all your platforms. This way, you only need to change your menu once for all your platforms. With a single click, Yumm will make all the changes for you.
This feature is available soon.
Your digital menu
Why choose Yumm?
Yumm
Low cost

Self manageable

Advanced functionality

Accessible everywhere

View on smartphone

Digitally available
Static website
High cost

Changes on request

Limited functionality

Accessible everywhere

View on smartphone

Digitally available
Menu on tablet
Very high cost

Changes on request

Limited functionality

Only accessible locally

View on shared tablet

Digitally available
Printed menu
High cost

Changes need reprint

No functionality

Only accessible locally

Shared printed menu

Not digitally available
Easy and accessible to use
How does Yumm work?
Step 1: Create your free Yumm account

Create your Yumm account without any costs, it's as simple as that.

Step 2: Build and design your menu

Design your menu layout and add menu groups, Yumm has an example menu so we have you covered.

Step 3: Add your menu items, details and photos

Add menu items with rich details and photos, linking them to menu groups.

Step 4: Customize your personal QR code and url

Customize your QR code and share the url on your social media or website, letting customers view your menu in advance.

Step 5: Your customers scan the QR code

Use your QR code on your tables, counter, window, or other, so customers can easily scan the QR code to view your menu.

Step 6: Your customers fill in the attendence form

Before or after their visit, your customers can fill in the COVID attendance form on their own smartphone.
Safe and inexpensive
How much does Yumm cost?
Menu
€6.99
Per month, incl VAT
30 days free
---
Personalised menu

Change your menu at any time

Integrate into your website

Multilingual support

Made for any business type

Available 24/7 to assist you
Create my free account
Start building your menu today
Yumm not only eliminates the cost and need of paper menus, it simplifies the way you build your menu and how your customers use it.
No hidden costs, no credit card required.
Monthly subscription fee applies after. Offer not available to users who already tried for free. Terms and conditions apply.
Contact Us
Interested in trying out Yumm or have a question about the platform? Please use the contact form below, we will get back to you as soon as possible.